Why Recirculating Aquaculture Systems (RAS)
Why Recirculating Aquaculture Systems (RAS)? Aquaculture hatcheries currently use the open larval rearing system. The open larval rearing systems have been found to have certain shortcomings. These are illustrated in the figure below and explained subsequently.
Water Quality in Recirculating Aquaculture Systems (RAS) for Larval Production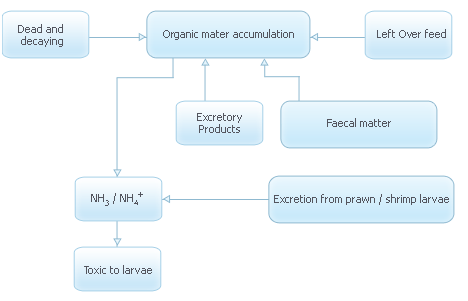 Heavy Water Exchange:

In an open larval rearing system in a hatchery, there is continuous exchange of seawater on a regular basis. The quantum of exchange varies depending on the hatchery and could be as high as 100%. Due to the heavy demand of seawater in the production process, the hatcheries pay less attention to water treatment processes, which are aimed at eliminating pathogens and for attaining the desired physical and chemical quality in the water used. Besides, the whole process turns out to be very much cumbersome and expensive
In any conventional open larval production system organic matter accumulation takes place from left over feed, fecal matter, and other excretory products which invariably deteriorate the quality of water with enhanced output of Ammonia (NH 4+ / NH 3 ). Unionized ammonia above 0.01 ppm is toxic to larvae as the molecules pass through the gill membranes and result in cellular pH alterations. Nitrite exerts its lethality above 0.10 ppm. Eventually it becomes one of the major issues in shrimp/prawn hatcheries, as the daily specific excretion of ammonia by larvae and post larvae is about five folds higher than adults.
Application of chemical disinfectants, antibiotic and other chemotherapeutic agents in the production process resulting in the detection of antibiotic residues in the exported shrimp/prawn products.
The drawbacks mentioned above can be overcome by integrating an appropriate technology in hatcheries, which would continuously and effectively transform ammonia to nitrite and nitrite to nitrate, and bring down their residual level near to zero. The removal of ammonia, nitrite and nitrates is accomplished by the Nitrifying Bioreactors.
The Nitrifying bioreactors can be integrated into the larval rearing tank and maturation system in the manner illustrated below to achieve a biosecureRecirculating Aquaculture Systems (RAS)with recirculation of water:
Nitrifying bioreactor for establishment of Recirculating Aquaculture Systems (RAS) for larval production system
The bioreactors are integrated in a larval production system at 2 points as illustrated in the Figure below:
An Ex situ PBBR to the reservoir system and
In situ SBSBR to the larval rearing tanks. For effective nitrification in the larval rearing tanks, SBSBRs at the rate of 2 reactors per ton of water are required. 10% of water is recirculated through the PBBR for effective nitrification.
Integration of PBBR and SBSBR to Larval production system to establish a Recirculating Aquaculture Systems (RAS)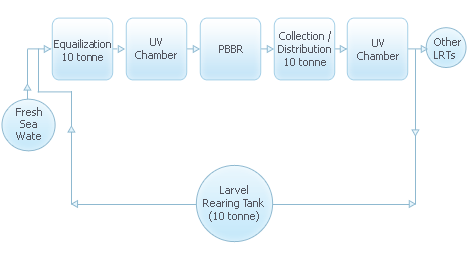 Nitrifying Bioreactor for the establishment of Recirculating Aquaculture Systems (RAS) in maturation system
One of the difficulties experienced in the brood stock development program is the difficulty in getting reef quality water for the maturation process as ripening of gonads; fertilization and release of eggs are directly linked to the quality of water. A standard PBBR with 50% treatment of water can be used to establish a Recirculating Aquaculture System (RAS). Establishment of such recirculating aquaculture systems (RAS) ensures that pheromone levels in the system are maintained at high levels.